Frequently Asked Questions
What is OneRecord by Nexshore?
Designed by the International Air Transport Association (IATA) and brought to life by Nexshore, OneRecord has been designed to be the most efficient platform to date for data sharing in logistics. Envisioned as "an end-to-end digital logistics and transport supply chain where data is easily and transparently exchanged in a digital ecosystem of air cargo stakeholders, communities and data platforms"
How does OneRecord enable this data sharing vision in practical terms?
ONE Record Is A Standard For Data Sharing And Creates A Single Record View Of The Shipment. This Standard Defines A Common Data Model For The Data That Is Shared Via Standardized And Secured Web API. The Standard Is Based On Mature But Progressive Data Sharing Technologies That Are Well Aligned With The Best Practices Used By Leading Airlines. This Makes It Directly Accessible To IT Teams And Service Providers.
Data Model Specification: The Standard Provides The Air Cargo Industry With A Standard Data Structure For Data Exchange Using JSON-LD That Facilitates Data Integration With Existing And New Data Services
API Specification:specifies The Interface And Interaction Of The Web API Or Application Programming Interface That Allows Airlines And Their Partners To Connect Their System Directly Using Best In Class Web Technologies
Security Specification: Uses An Industrywide And Federated Trust Network To Manage Identification And Authentication Of Data Sharing Systems And Ensures Data Privacy And Confidentiality For All Parties.
How are services for OneRecord by Nexshore priced?
Pricing is simple and transparent. Based on a monthly SaaS billing cycle, Nexshore has two fundamental pricing tiers.

Business Subscription:
The business subscription costs $49/month with one user. This tier provides you with the right to use the SaaS product and all its features. Each additional user is charged at $9 per user/month. Nexshore additionally charges a transaction cost of $0.30 per AWB lifecycle.

Enterprise Subscription
The enterprise subscription costs $550/month for unlimited user access. This tier provides all the features of the business subscription and also access to the exhaustive set of APIs for seamless integration of your backend systems with OneRecord. This also gives you access to volume based pricing for transactions per AWB lifecycle as per details below.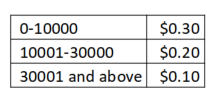 How many different products are there and how do I find the product that best suits me?
There are fundamentally four product variants: (1) For Freight Forwarders (2) For Airlines (3) For Ground Handlers (4) For all other kinds of organizations (service providers, sub-contractors, trucking and road transport). A fifth kind of account is available to ISVs. Clicking on the "Buy Now" button will guide you through the steps to sign up for the correct account for you. In case you need help, please contact us via the "Send Message" form on the sidebar.
What is your cancellation policy?
OneRecord by Nexshore is based on a simple SaaS subscription. You can cancel at anytime without obligation, no questions asked. Please ensure all your data is backed up before this request is made. You may lose access almost immediately after this request.
How safe are my payments to OneRecord by Nexshore?
OneRecord by Nexshore is a simple subscription price based on the payment method you setup. Nexshore uses Stripe® the leading payments company to manage all subscriptions so you can be rest assured that all your sensitive financial data is handled with the utmost security. Stripe is a PCI Level 1 Service Provider and maintains all necessary compliances globally. Nexshore does not maintain any sensitive personally identifiable information about you or your payment methods on our servers.