As a SaaS Platform Simplifying Data Sharing In Global Logistics
Overview
Building The Internet Of Logistics
There's a significant shift across the global air cargo and logistics landscape with complete digitalization and the creation of value-added offerings on this shift. Data will be at the heart of this transition, with freight forwarders and their shippers expecting a single source of visibility and insights on cargo movements in real-time.
Nexshore, with the support of IATA, is redefining digitalization and data exchange across the industry - through the OneRecord platform. Poised to be the "Internet of the Logistics World", the SaaS platform creates a single record view of every shipment offering seamless trackability, information sharing, and partner onboarding.
How The Platform Powers Data Sharing
The platform is built on the IATA standard for data sharing and defines a common data model for the data that is shared via standardized and secured web API. The standard is based on mature but progressive data sharing technologies - aligned with the best practices of leading airlines. This makes it directly accessible to IT teams and service providers.
Benefits of The Air Cargo Ecosytem
Data owner is in full control of data quality, determining who may or may not have access
Complete coverage of logistics chain means easy shareability of shipment data for enhanced visibility and transparency
Web API enables direct connectivity between all logistics players
Completely digital ecosystem for stakeholders to be able to develop collaborative and automated digital services
Beyond tangible benefits - experience flexible subscriptions on transparent pricing to save on costs.
Applications Of OneRecord - Across The Logistics Universe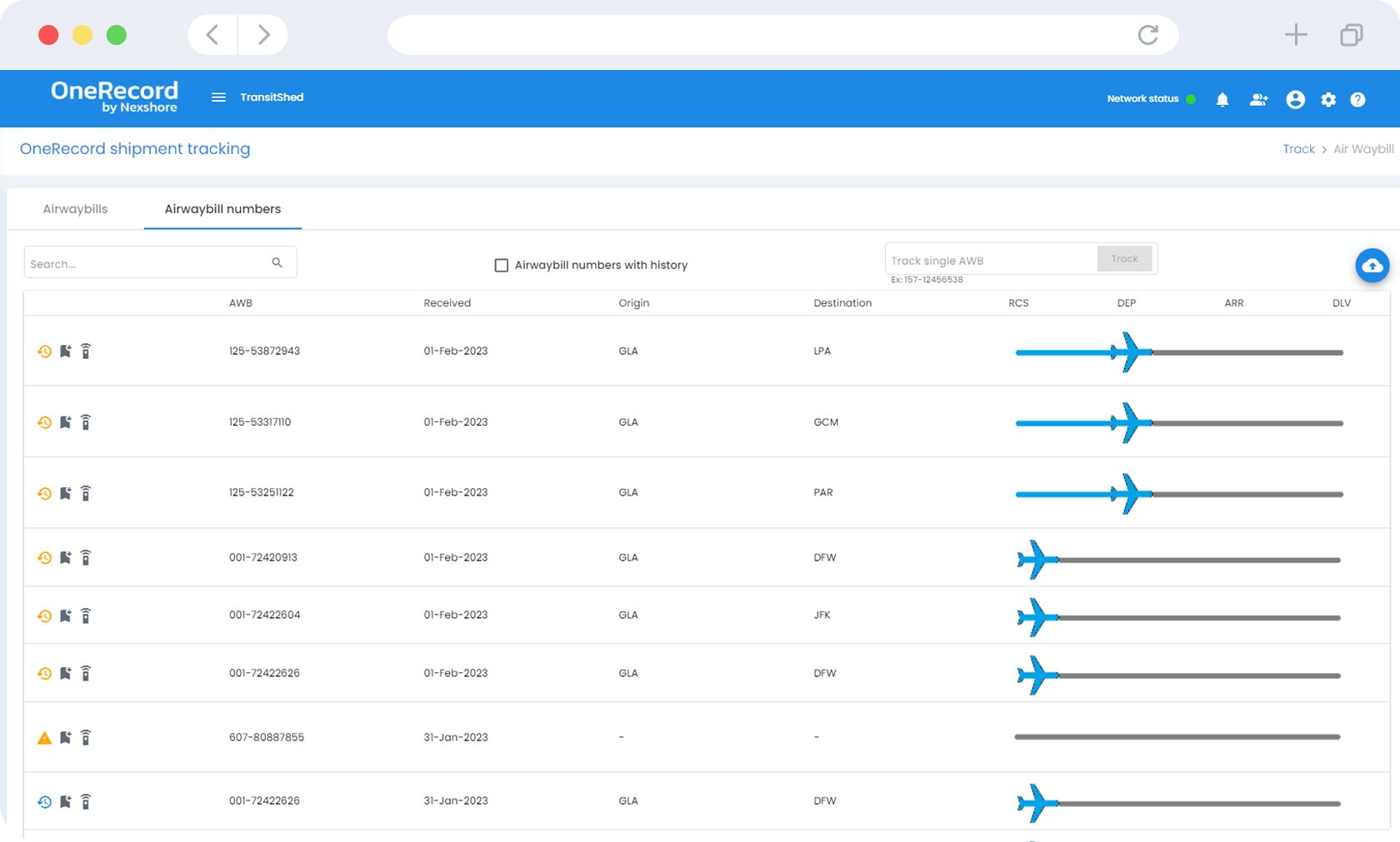 Tracking
OneRecord offers a consolidated and easy-to-understand status history of every shipment within a single view - accessible via dashboards, to monitor and gain valuable insights through business reports. Offering complete visibility, the platform enables stakeholders to track shipments with ease.
Tracking Applications of OneRecord
Freight Status Updates - Standardized across 100 of the world's leading airlines
Real-time Alerts - When consignments miss their intended flight (via email, SMS, or social media)
Real-time Updates - Direct to customers via email, SMS, or other social media
Targeted Monitoring on Demand - Consignment monitoring for high profile/value shipments for real-time updates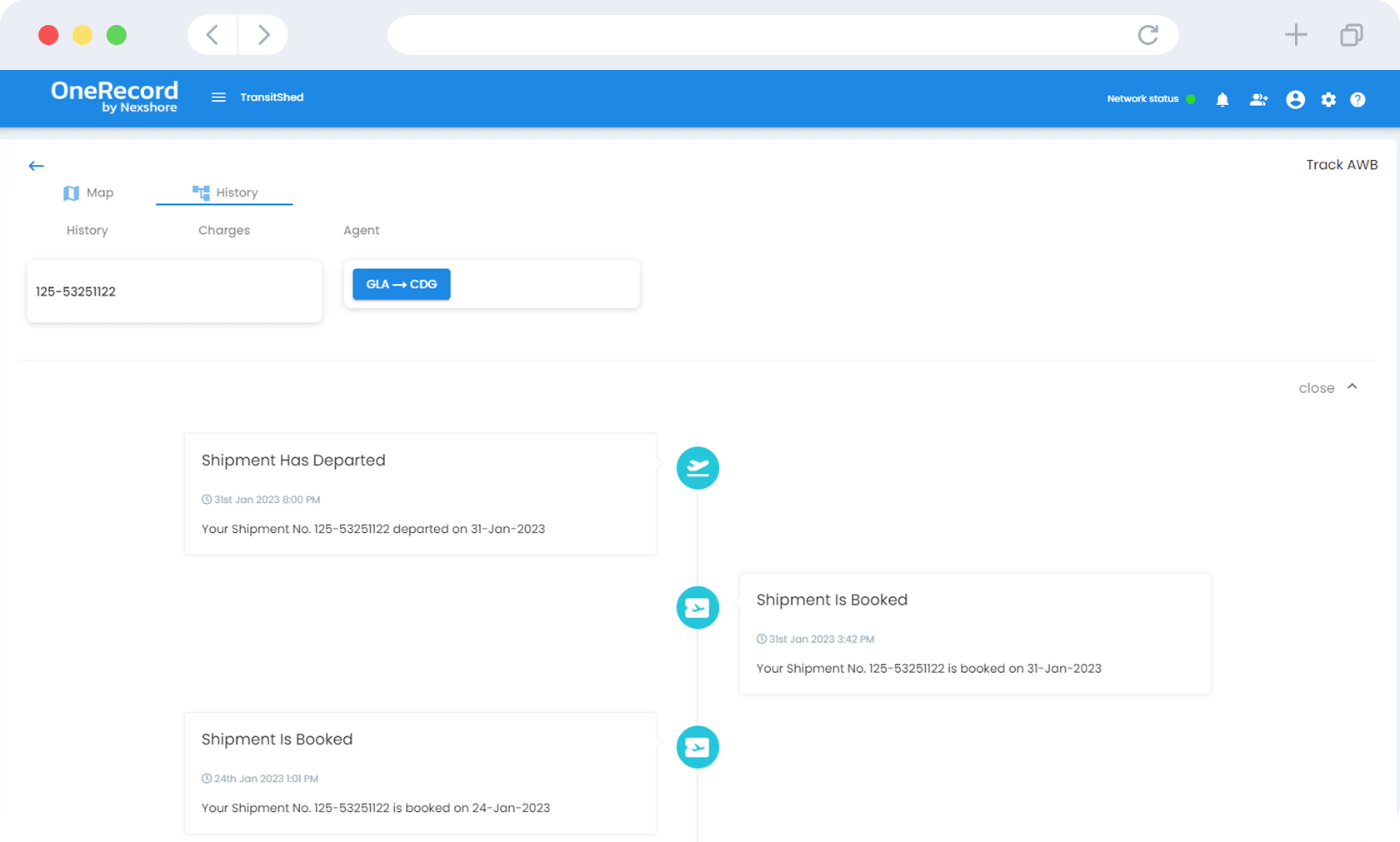 Updates
Easily send and receive updates amongst your partner network within OneRecord - free of charge. The platform streamlines communication of Air Cargo status and operational updates in real-time free of translation or messaging charges.
How It Works
Updates are converted to OneRecord objects
Objects can be easily shared with Partners within the OneRecord platform
Partners without an account can be invited to join the platform to receive real-time updates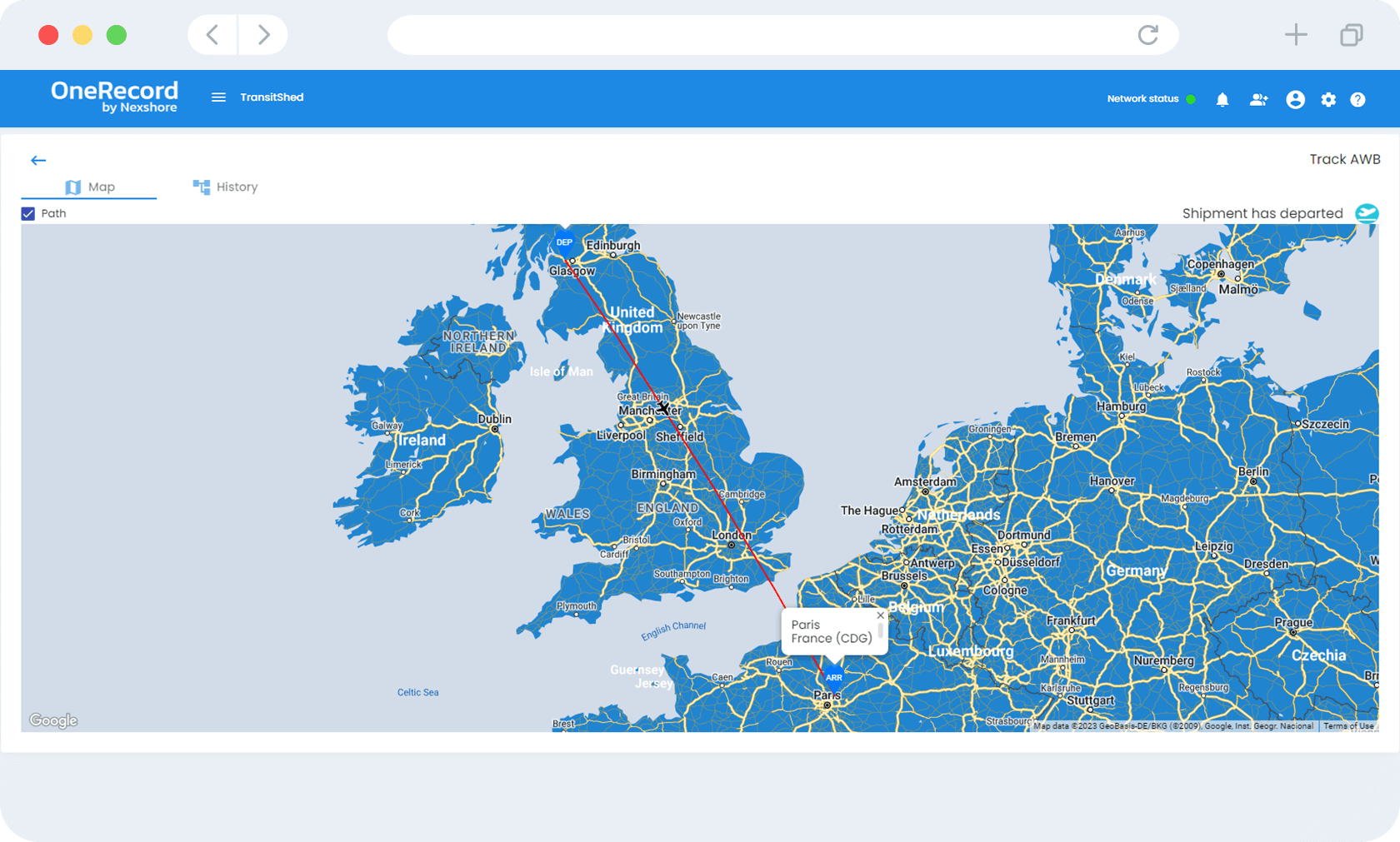 Information Sharing
SImilar to updates, simplify how you share vital information - text, live email updates, automated event triggers, premium real time tracking. Easily send and receive updates, free of charge, to any other partner regardless of whether they have a OneRecord account.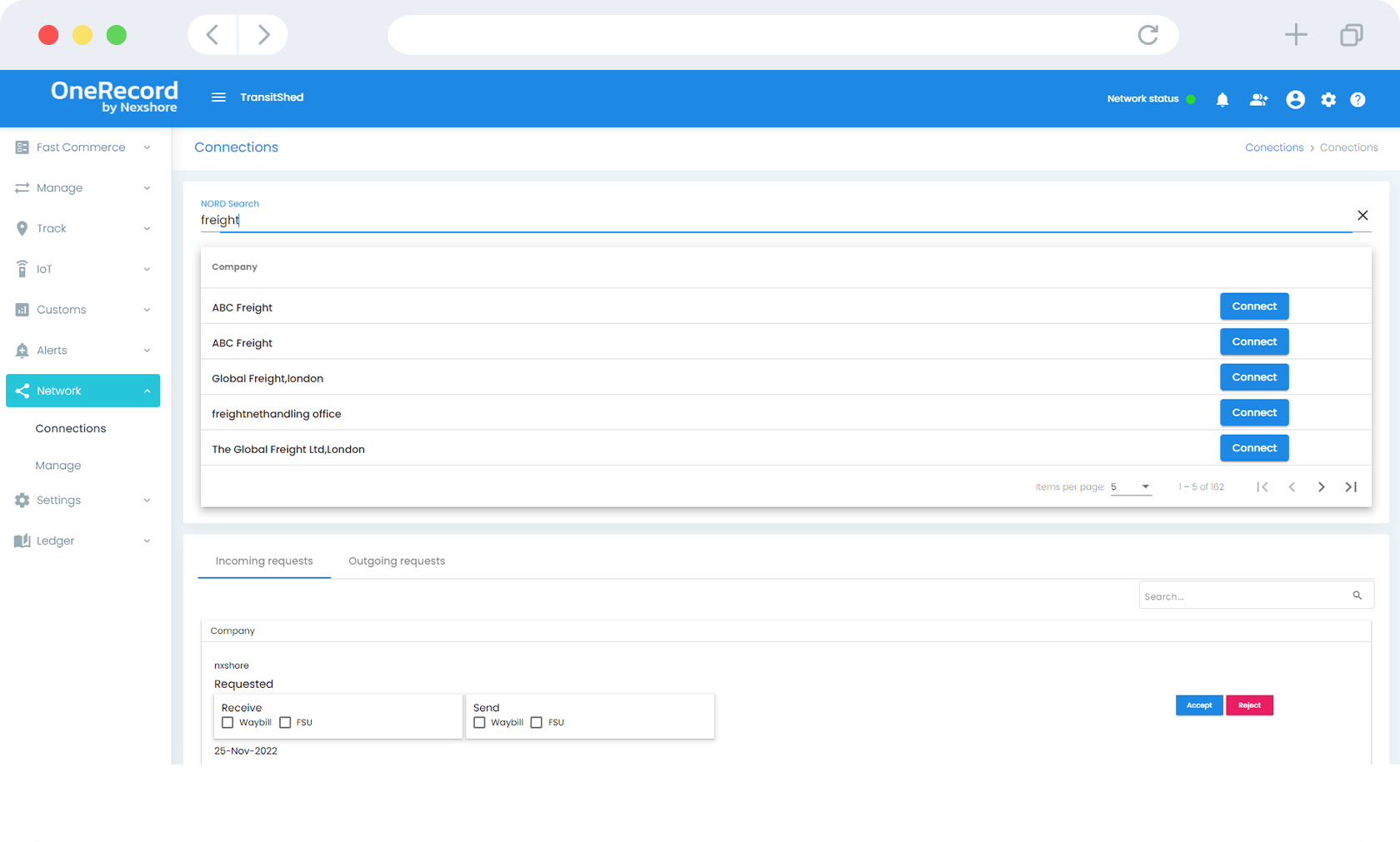 Networking
Stakeholders have the opportunity to create custom and optimized logistics network with no overheads on OneRecord. This means freight forwarders/shippers can create optimized network of Airport stations, Airlines, Customers, Ground transportation partners - to effectively manage export or import shipments.
Significance of the Networking Feature
Subscribing to any Airport station and browsing through the Airlines to connect to them.
Add more airport stations, find new partners, service more customers for network and business growth.
All Questions On OneRecord - Answered Here
Complete Visibility Of Logistics With End To End Digitalization -
The platform offers specialized digital solutions - from booking to managing air cargo to its final destination.
Real-time Updates Of Cargo Efficient Tracking Feature -
Detailed air cargo tracking info - freight updates and alerts via dashboards with easy-to-understand status history.
Simplified Knowledge Sharing Data Sharing Within & Outside Network -
Data is translated to OneRecord format and allows to easily send and receive updates to any other partner.
Efficient Managing Of Partners Networking Features For Partnerships -
Create an optimized, digital logistics network with no overheads and seamlessly manage airport stations, airlines, customers, and ground transportation partners.
Brands that Enjoyed Better Control of Air Cargo Ops with Oneshipper.io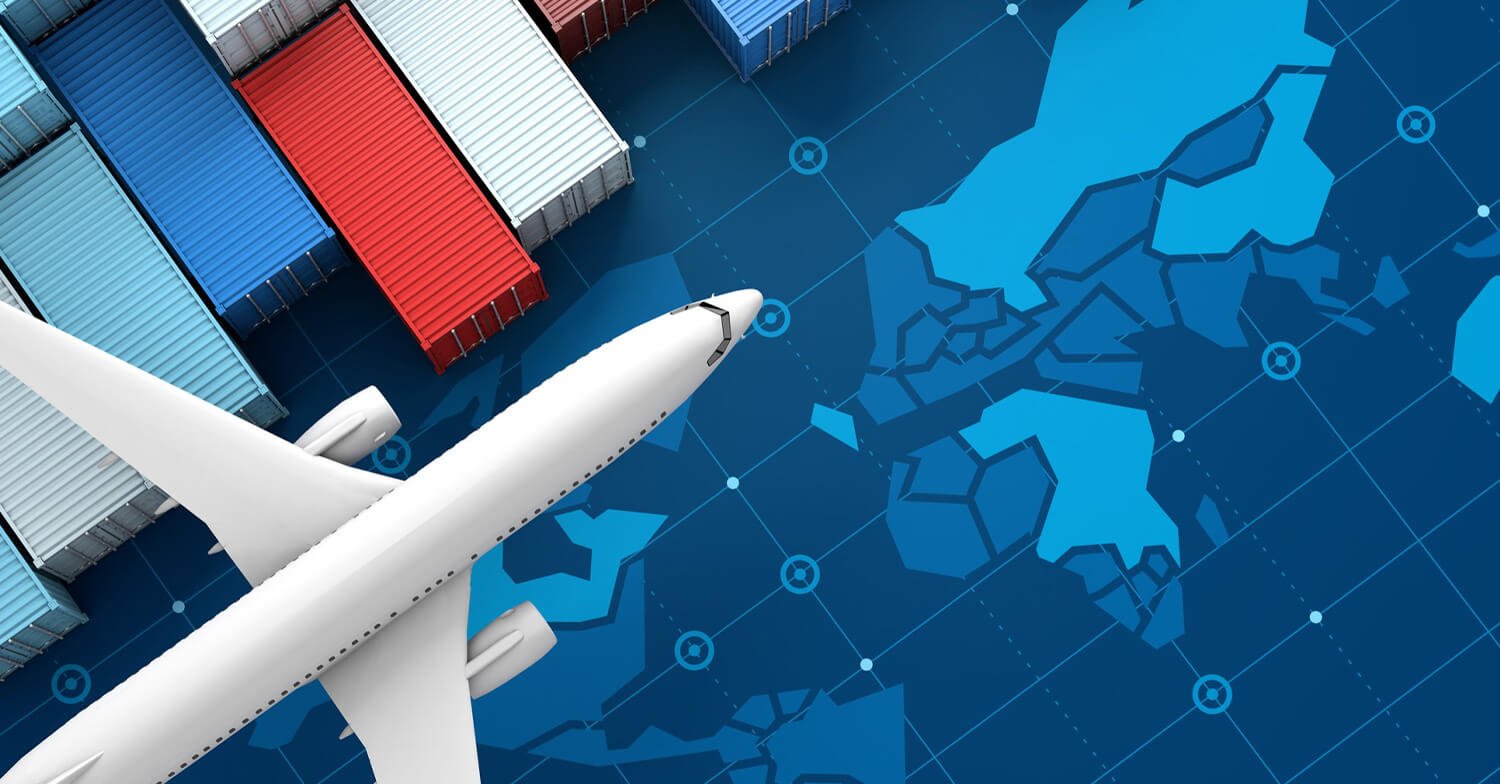 About 200 companies globally are applying OneRecord in pilot projects with 25 use cases including exchange of air waybill data, freight tracking, customs processes, and more.
Explore how OneRecord pilot implementation improved transparent and secure data sharing - eliminating expensive messaging costs, and minimizing paper trails of air cargo operations in one of the world's foremost and busiest airports.
Read More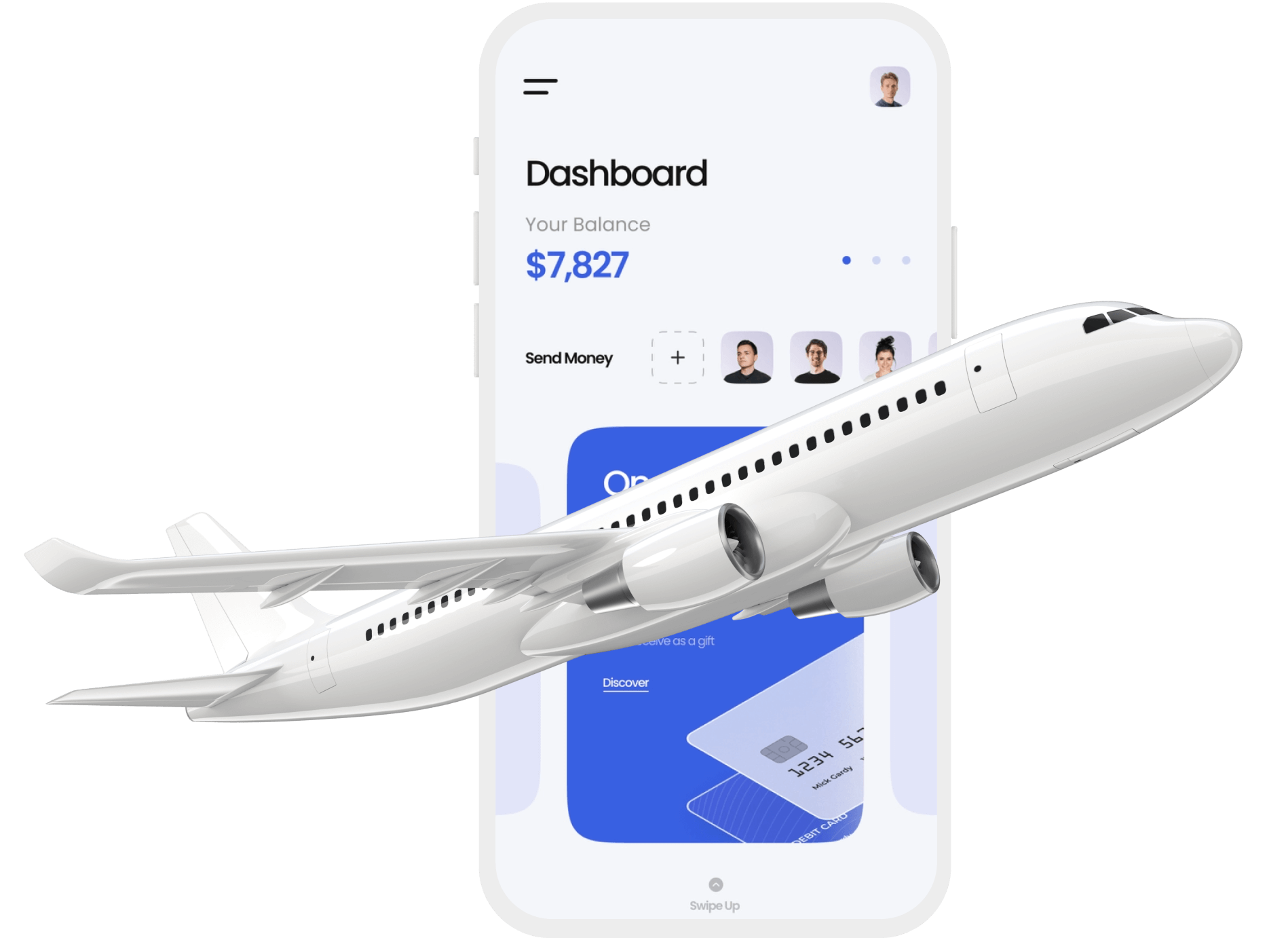 Pilot Your Application On OneRecord
We're offering a limited number of pilot stacks for third-party App development and welcome you to apply for one to see if you qualify. You can get a jump start on developing your Apps on OneRecord by Nexshore (fully compliant with the IATA ONE Record standard).