The undisputed standard for data sharing in global multi modal logistics
Switch on the Internet Of Logistics with a few clicks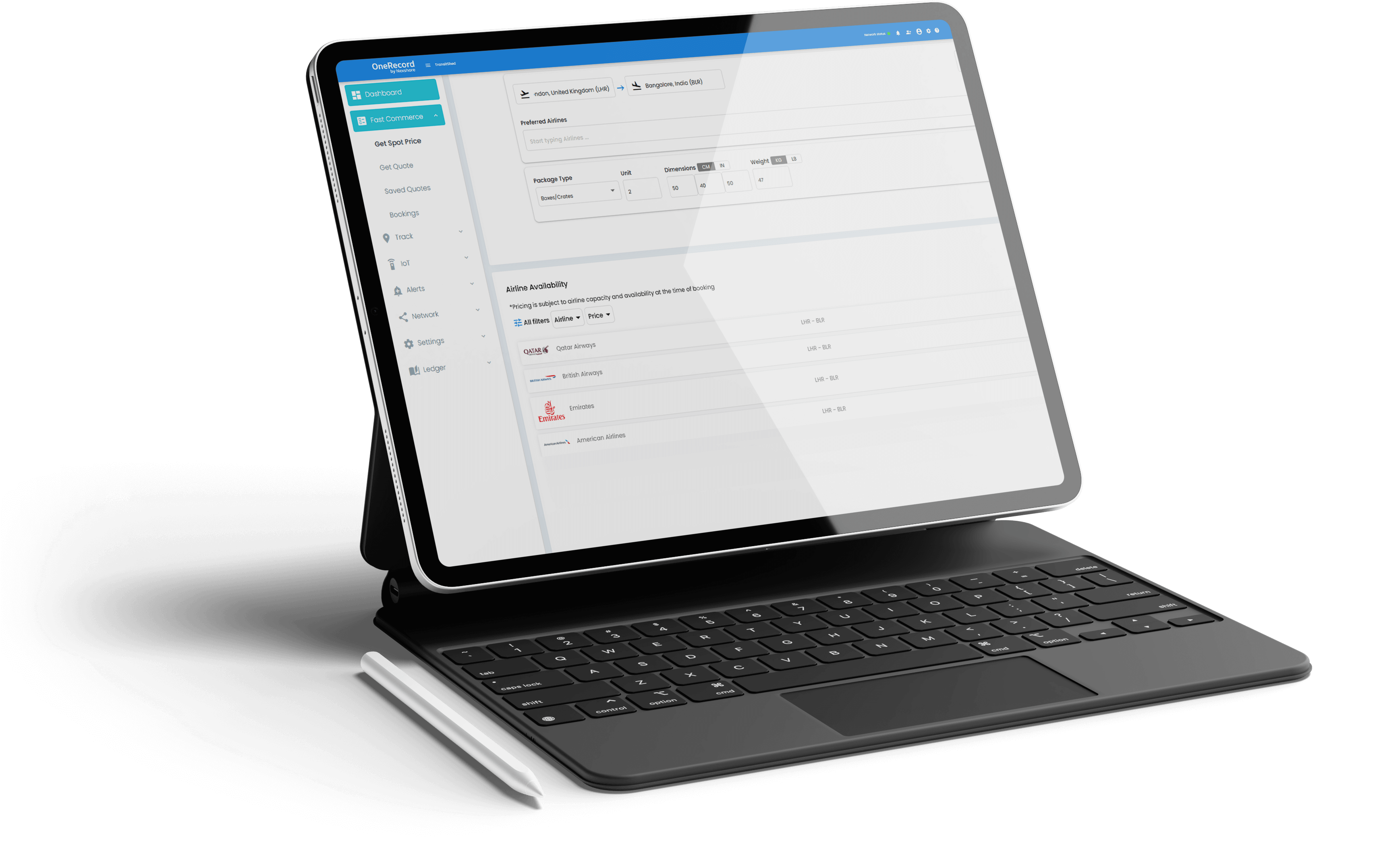 There is a remarkable transformation taking place in the global air cargo and logistics industry as it embraces complete digitalization and introduces value-added services. At the core of this shift lies the power of data, as freight forwarders and shippers alike anticipate a unified source of real-time visibility and insights into the movement of their cargo.
With the backing of IATA, Nexshore is revolutionizing digitalization and data exchange across the entire industry through their innovative OneRecord platform. Positioned as the "Internet of the Logistics," this cutting-edge SaaS platform presents a unified and comprehensive view of every shipment, offering effortless traceability, seamless information sharing, and enhanced connectivity.
How the platform powers data sharing
The platform harnesses the power of the IATA standard for data sharing, enabling seamless collaboration and defining a universal data model. Through a secure and standardized web API, data is shared effortlessly, following the best practices of leading airlines. Built on a foundation of mature yet innovative data sharing technologies, the platform caters to the needs of IT teams and service providers, ensuring direct accessibility and optimal performance.
Benefits of The Air Cargo Ecosytem
The data owner holds complete authority over data security, having the power to decide who is granted or denied access.
Achieve comprehensive logistics coverage to facilitate effortless sharing of shipment data, resulting in improved visibility and transparency.
The power of Web API brings seamless connectivity to all key players in the logistics industry.
An innovative digital ecosystem empowering stakeholders to create collaborative and automated digital services.
Applications of OneRecord by Nexshore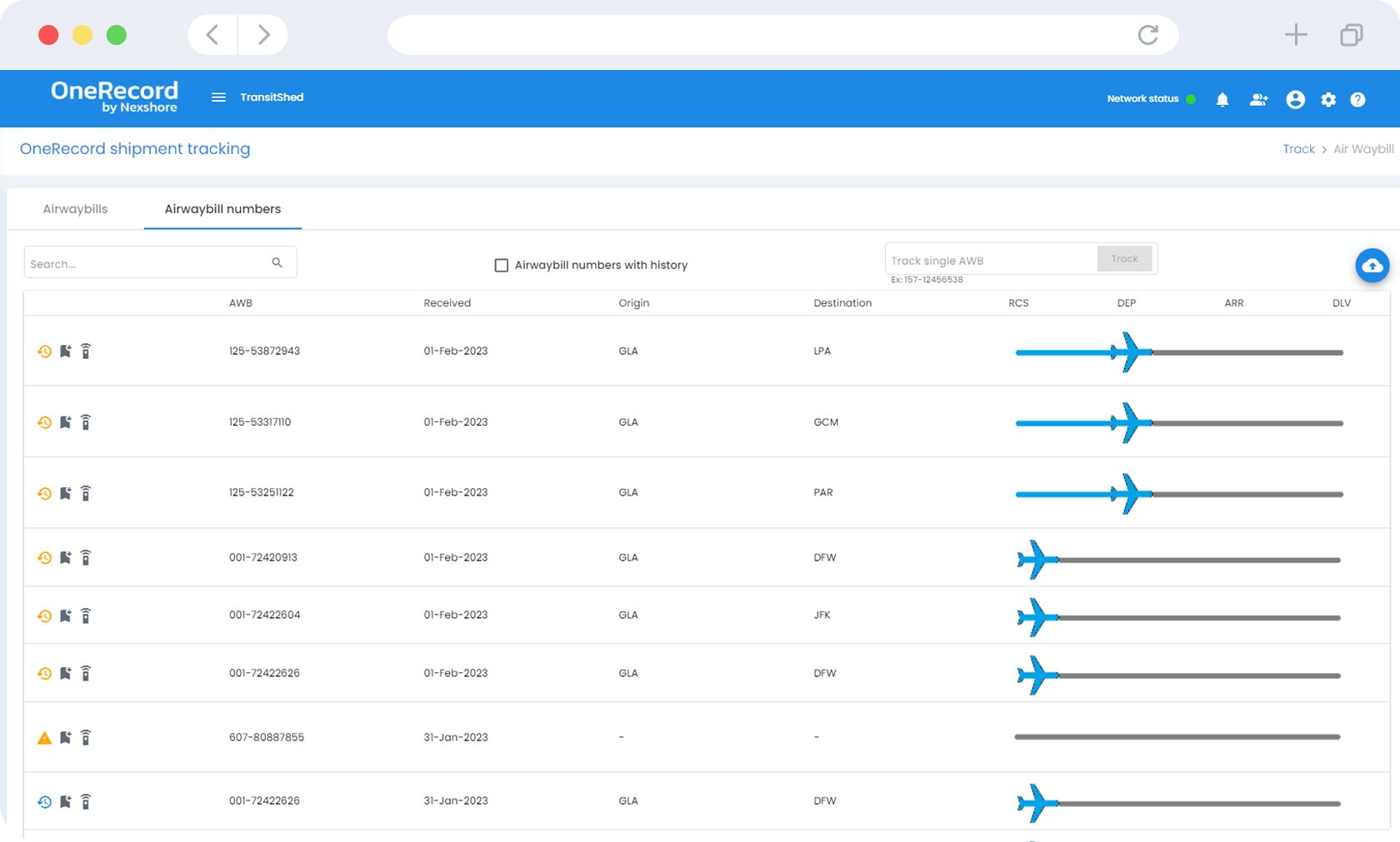 Tracking
OneRecord offers a consolidated and easy-to-understand status history of every shipment within a single view - accessible via dashboards, to monitor and gain valuable insights through business reports. Offering complete visibility, the platform enables stakeholders to track shipments with ease.
Tracking Applications of OneRecord
Freight Status Updates - Standardized across 100 of the world's leading airlines
Real-time Alerts - When consignments miss their intended flight (via email, SMS, or social media)
Real-time Updates - Direct to customers via email, SMS, or other social media
Targeted Monitoring on Demand - Consignment monitoring for high profile/value shipments for real-time updates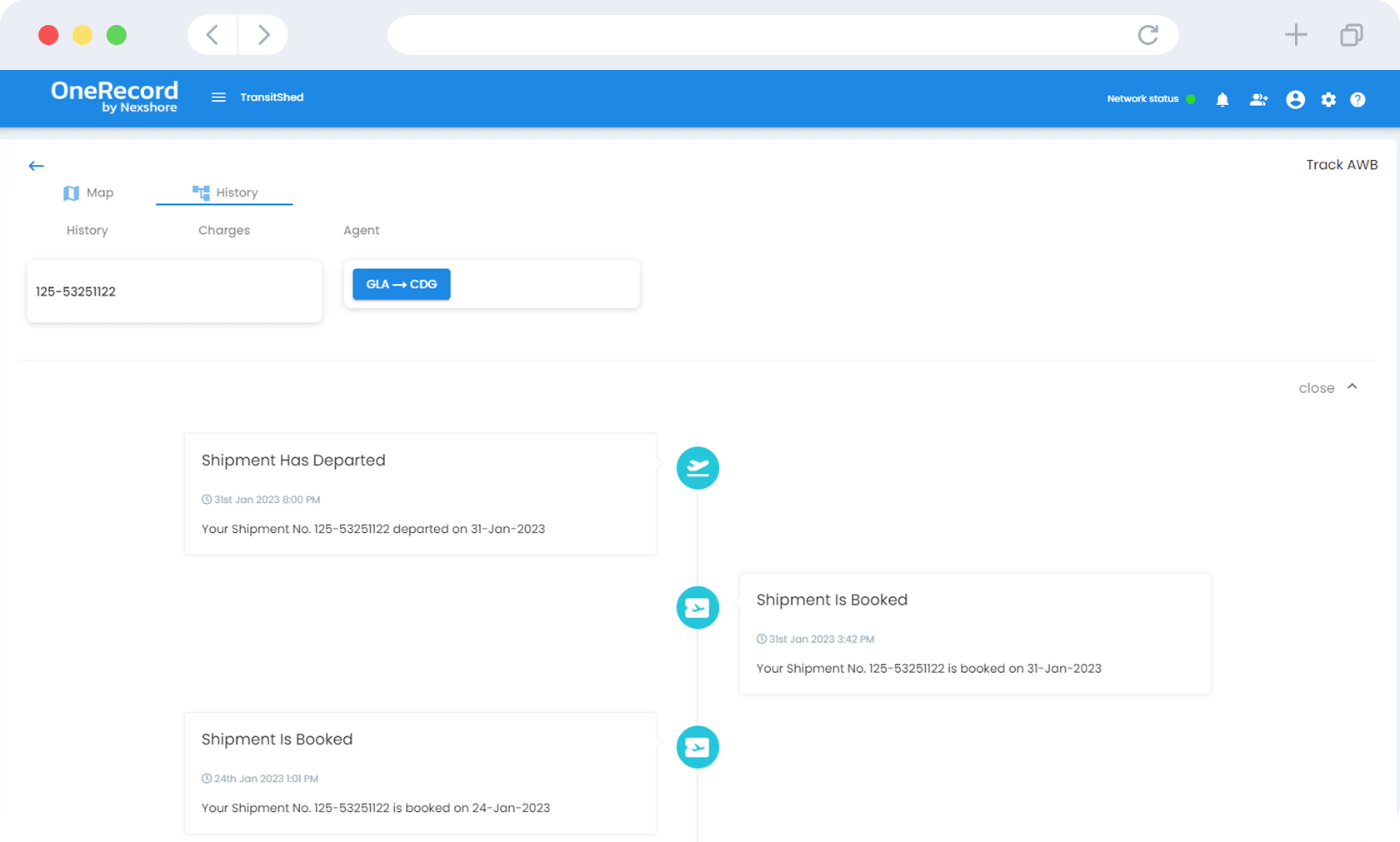 Updates
Easily send and receive updates amongst your partner network within OneRecord - free of charge. The platform streamlines communication of Air Cargo status and operational updates in real-time free of translation or messaging charges.
How It Works
Updates are converted to OneRecord objects
Objects can be easily shared with Partners within the OneRecord platform
Partners without an account can be invited to join the platform to receive real-time updates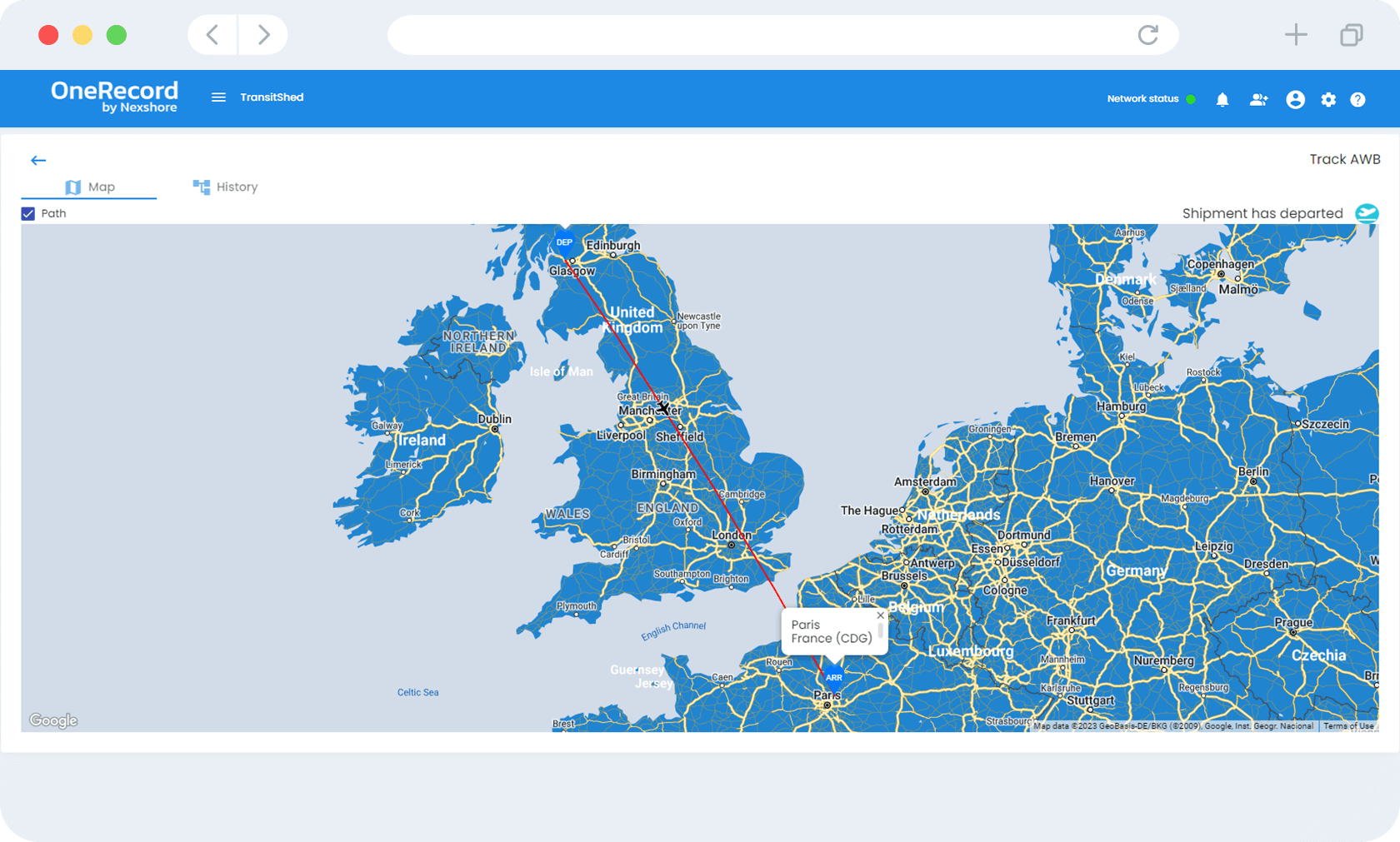 Information Sharing
SImilar to updates, simplify how you share vital information - text, live email updates, automated event triggers, premium real time tracking. Easily send and receive updates, free of charge, to any other partner regardless of whether they have a OneRecord account.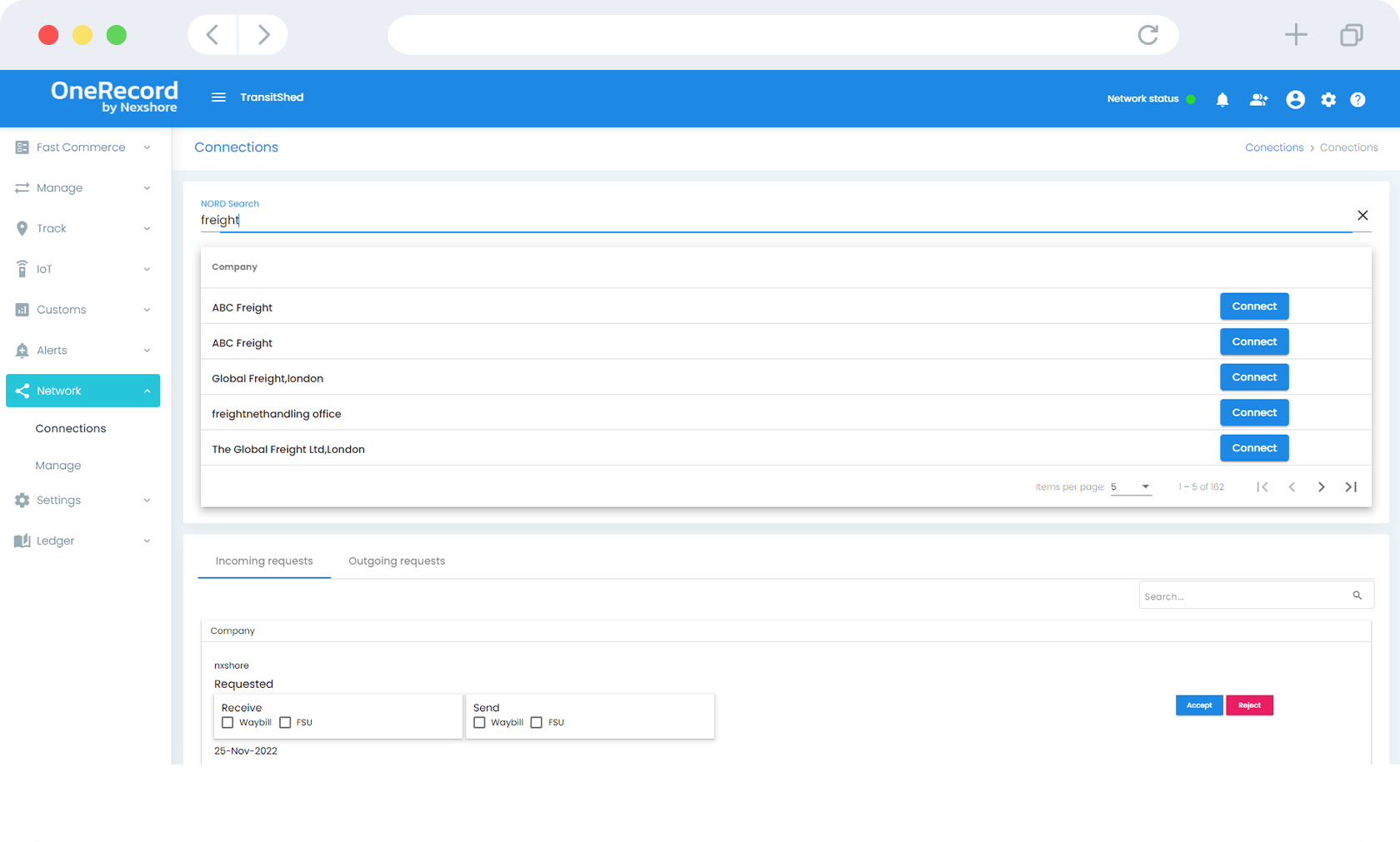 Networking
Stakeholders have the opportunity to create custom and optimized logistics network with no overheads on OneRecord. This means freight forwarders/shippers can create optimized network of Airport stations, Airlines, Customers, Ground transportation partners - to effectively manage export or import shipments.
Significance of the Networking Feature
Subscribing to any Airport station and browsing through the Airlines to connect to them.
Add more airport stations, find new partners, service more customers for network and business growth.
Discover all the answers to your questions on OneRecord by Nexshore
Complete Visibility Of Logistics With End To End Digitalization -
The platform offers specialized digital solutions - from booking to managing air cargo to its final destination.
Real-time Updates Of Cargo Efficient Tracking Feature -
Detailed air cargo tracking info - freight updates and alerts via dashboards with easy-to-understand status history.
Simplified Knowledge Sharing Data Sharing Within & Outside Network -
Data is translated to OneRecord format and allows to easily send and receive updates to any other partner.
Efficient Managing Of Partners Networking Features For Partnerships -
Create an optimized, digital logistics network with no overheads and seamlessly manage airport stations, airlines, customers, and ground transportation partners.
Unlock the power of flexible and transparent pricing options when you become a subscriber.
Choose the perfect plan that aligns with your business requirements and enjoy the convenience of paying as you use with our monthly subscription options. Experience a comprehensive 14-day trial period with all plans, allowing you to explore the full range of features. Rest assured, your credit card will only be charged once the trial period ends. Feel free to cancel anytime.
OneRecord Essentials
US $550 / month
Track and Trace by AWB number
Extensive Airline Coverage
Tiered Pricing As Low As $0.1 Per Tracked AWB
Detailed Air Cargo Milestones
Configure Text and Email Alerts
OneRecord Professional
US $750 / month
Everything included in Essentials
Get Quotes From Leading Airlines
Personalize your SaaS for your Shippers
Custom Enterprise
Contact Sales
Includes all OneShipper Features
Includes PayCargo Payments
Implemented on the AWS cloud
Includes IATA ONE Record API
White Label your solution with included API
Based On the IATA ONE Record Data Model
Flexible pricing
Our SaaS pricing structure is designed with your growth in mind, allowing you the flexibility to scale and create tailored solutions for your shippers. There are no limits to the number of AWBs you can process, so you can confidently sign up knowing that our solution will seamlessly grow alongside your business.
Pricing: Choose from our monthly subscription options of $550 or $750, and enjoy the added benefit of metered AWBs per month, as outlined below:
Here's a transparent breakdown of our pricing based on the number of AWBs processed:
- For the first 1000 AWBs, the cost is only $0.30 per AWB.
- As you progress to the next 1500 AWBs (up to a total of 2500), the cost decreases to just $0.20 per AWB.
- Finally, for the subsequent 3000 AWBs (up to a total of 5500), the cost further reduces to an unbeatable $0.10 per AWB.
Have any questions or need further assistance? Don't hesitate to reach out to us by submitting the form. We're here to help!
Brands that enjoyed better control of multi-modal cargo ops with OneRecord by Nexshore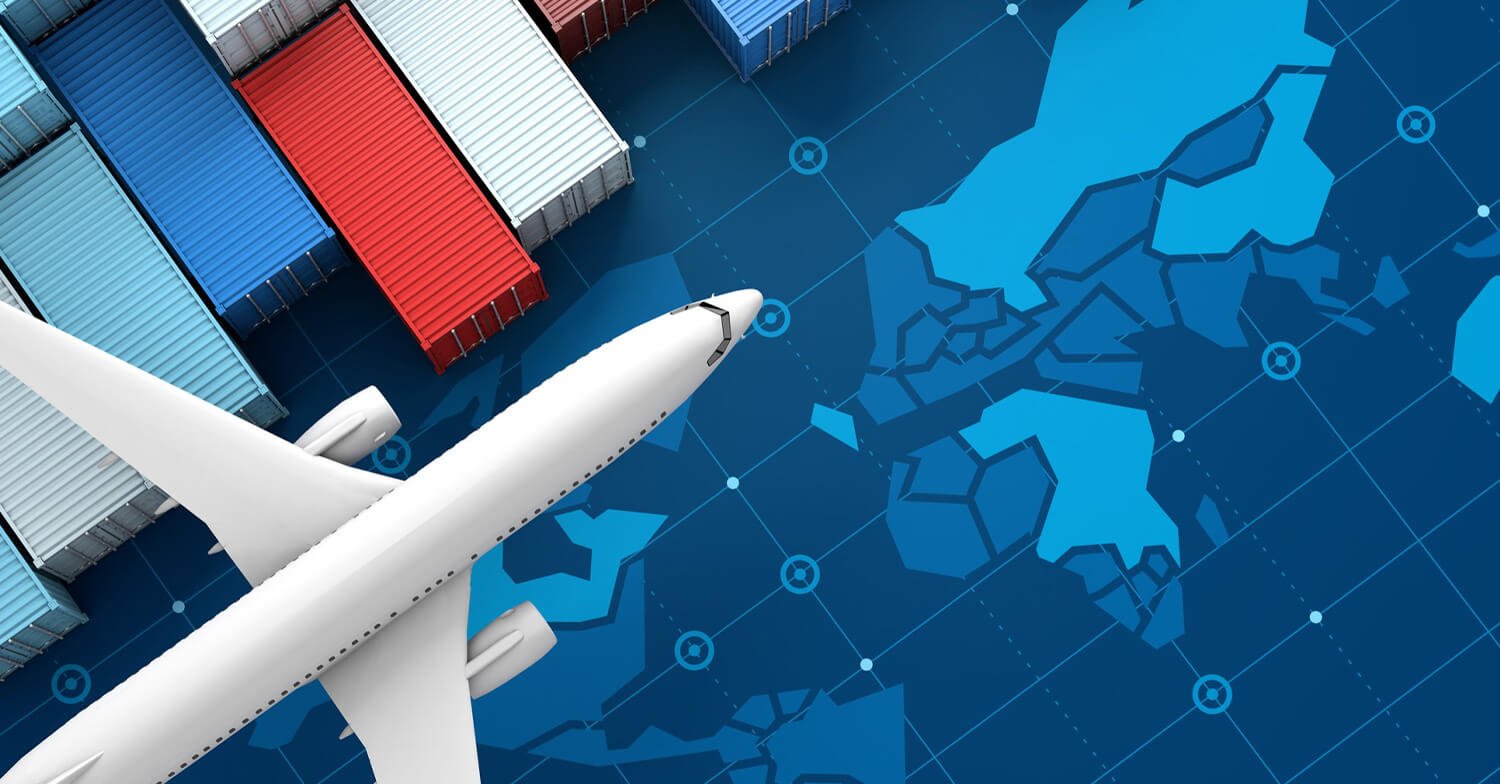 About 200 companies globally are applying OneRecord in pilot projects with 25 use cases including exchange of air waybill data, freight tracking, customs processes, and more.
Explore how OneRecord pilot implementation improved transparent and secure data sharing - eliminating expensive messaging costs, and minimizing paper trails of air cargo operations in one of the world's foremost and busiest airports.
Read More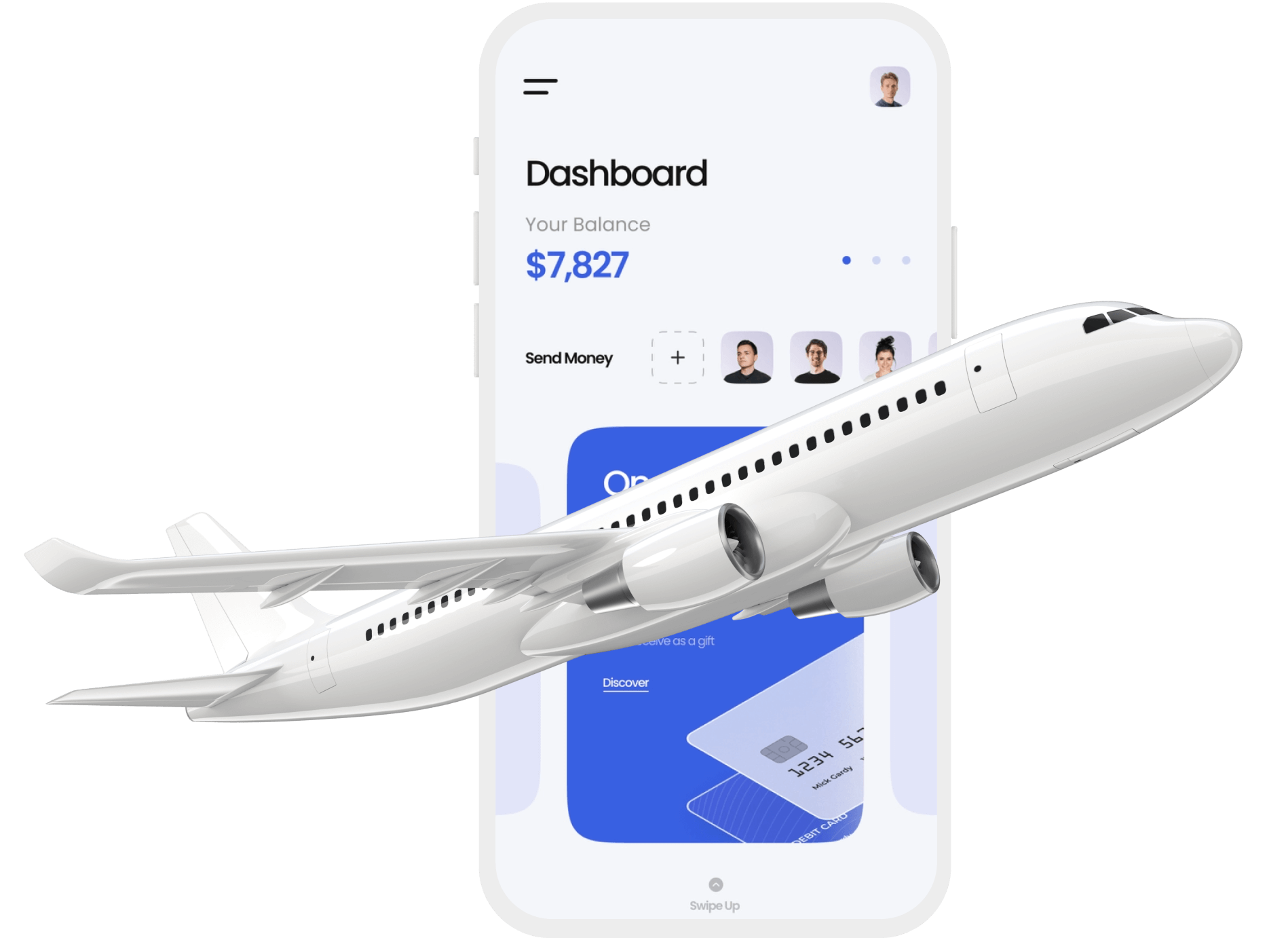 Standardize on OneRecord by Nexshore
Nexshore has had the most real life experiences running pilots and fine tuning implementations with IATA's ONE Record standard. Just switch to OneRecord by Nexshore to power digitalization into your logistics operations.
Explore a SaaS-first and demystified air cargo logistics landscape with OneRecord by Nexshore