Digitalizing Air Cargo Ops - Defining A New Paradigm Of Experiences
Overview
Simplified Experiences For Everybody In Air Cargo
Research from the Hackett Group points out that businesses associated with the air cargo supply chain have only digitalized 40% of their operations. It means there's a significant gap and a series of challenges unaddressed, such as - manual office operations, poor shipper experiences, and the lack of a centralized platform to seamlessly connect, operate, and share data. With OneShipper.io, we're eliminating this gap to fast-forward global air cargo operations.
OneShipper.io connects and digitizes every aspect of air cargo operations - enabling freight forwarders to offer specialized services to their shippers. The SaaS platform helps airfreight carriers be more efficient by decreasing delays, eliminating errors, and automating repetitive procedures.
SaaS Lane That Stands Out Against Other Solutions
Benefits In The Air Cargo Ecosystem
Capacity Planning
Facilitating real-time data sharing and true view of flight operations helps in better and more detailed capacity planning.
Real-time Quotes
Seamless connectivity and information sharing across the logistics network through OneShipper.io enables real-time quote sharing.
Cargo Booking
Improved cargo booking experience - paperless and actual container and airline information available in real time.
Cargo Monitoring
Freight forwarders and shippers can seamlessly track cargo through integrated tracking across the entire lifecycle of its movement.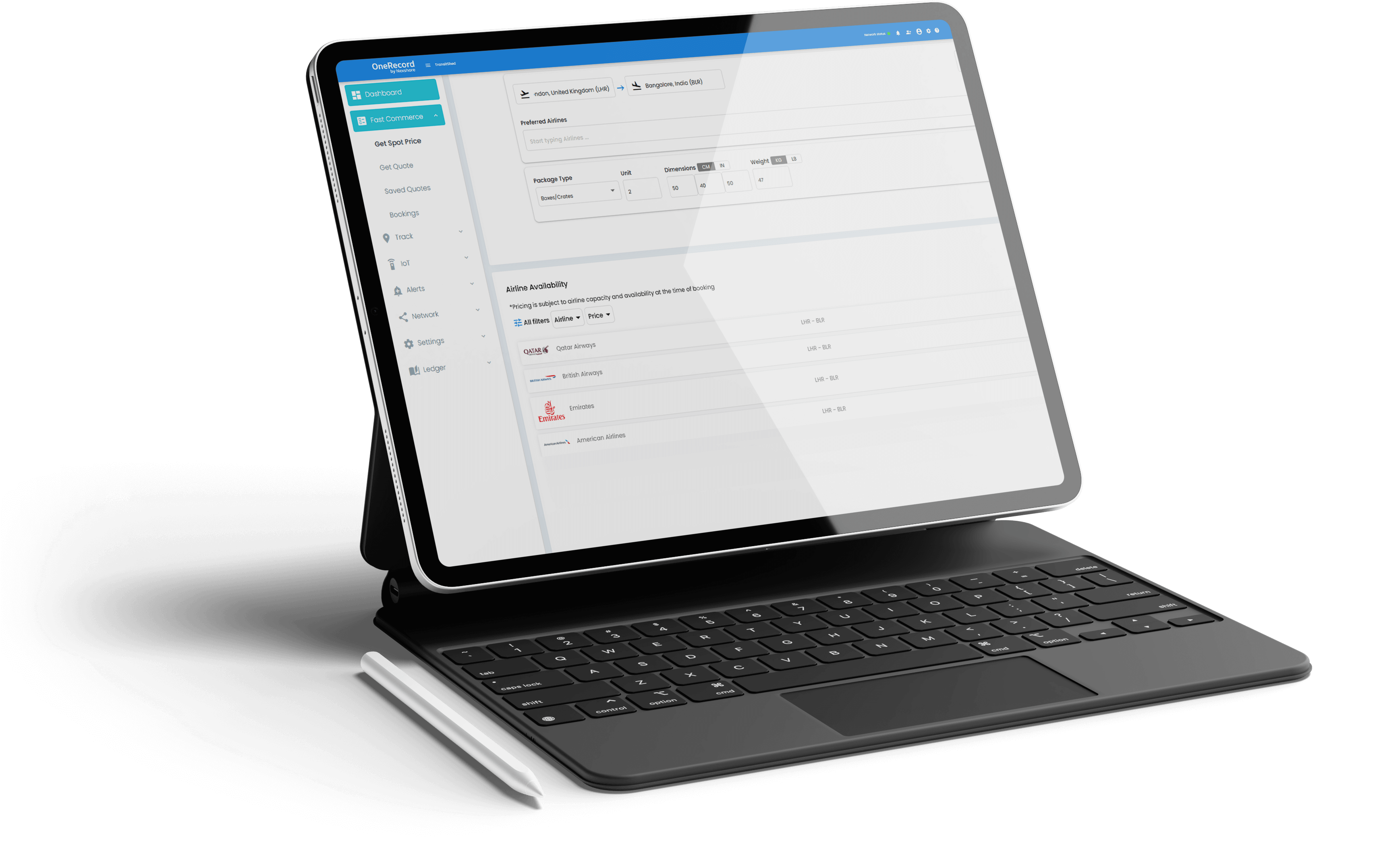 Benefits With The Platform In Place
Improved Overall Supply Chain Planning
Shippers are able to better plan capacity by matching inventory requirements.
Better Customer Relationships
Since fright forwarders can now focus on managing shipper experience instead of manually operating air cargo functions.
Improved Visibility
As end-to-end of supply chain logistics gets digitalized.
Decisive Decisions
Real-time inputs on cargo and updates from the network - all accessible via single dashboard helps in better and informed decision making.
Offer complete digitized experiences to your shippers for better returns from logistics ops